Announcement of "Jasmy Secure PC Concept" , the optimal solution for remote work and mobile use- Achieving both security and performance

Jasmy Co., Ltd. (Headquarters: Minato-ku, Tokyo, President: Kazumasa Sato, hereinafter referred to as "Jasmy"), which develops and provides IoT (Internet of Things) platforms, is a remote work on PCs, which is in increasing demand due to the corona disaster. We announced the optimal solution for mobile use, "Jasmy Secure PC Concept," at the online event "Digital Innovation 2021" hosted by Nikkei BP, which was held from today.
Jasmy's mission is to create and provide a mechanism (platform) that anyone can use things easily, safely and with peace of mind, and is a unique IoT platform that utilizes distributed technologies such as blockchain and edge computing. We have been working on development and provision.
This time, by utilizing the know-how that we have cultivated so far, for those who are forced to work from home due to this corona disaster, we will use a PC that has the same convenience and safety as at work. I have developed a solution.
Specifically, Jasmy's blockchain technology, Jasmy's two core services "Secure Knowledge Communicator (SKC)" and "Smart Guardian (SG)", and data sent from IoT can be managed securely and efficiently. We have realized the following solutions by using the environment "Jasmy IoT Platform" and other unique device management technologies.
1. 1. Safely monitor and manage data in PCs We monitor and manage
inappropriate data processing and unauthorized operations using distributed technology such as blockchain and our unique device management technology.
2. 2. The original of the PC bodyUtilizing the power By allowing
thin clients such as remote desktops and VDIs to use other resources through the network while 
using the resources of the PC itself used by the user, performance close to that used in the workplace can be achieved. We have realized a comfortable feeling of use.
3. 3. Balancing work progress management and ensuring privacy While
companies can manage and check the work progress and usage environment of employees in real time, they also confirm and guarantee that unnecessary information is not monitored by each employee. I will.
4. Remotely manage PC functions individually The
blockchain P2P function and unique device management technology remotely limit and safely control unnecessary functions for each employee's PC during working hours. Allows control so that only the necessary functions can be used according to the business.
5. PC hardware that also of the situation safely confirmed
by PC individual, such as a proprietary load and consumables situation device management technology in the body and the log management function using the block chain, safely confirmation from the remote even in an environment of remote work can.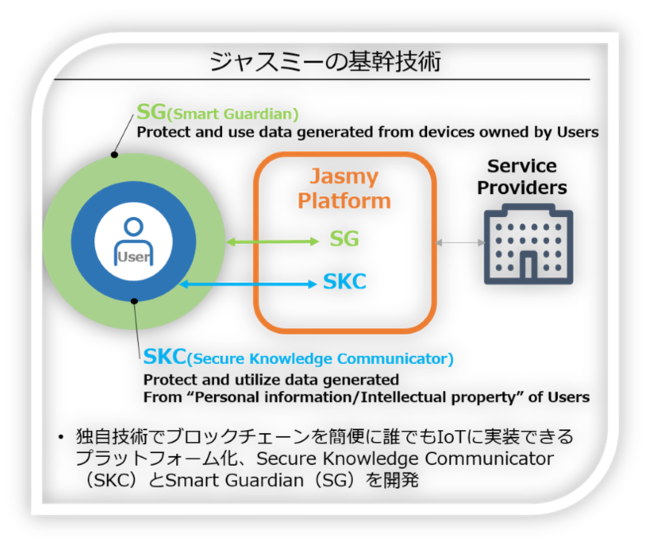 Jasmy will continue to collaborate with a wide range of companies to quickly realize a new normal society that is screamed by the corona sickness, and is actively working to contribute not only to better employment and schooling but also to improving the living environment. I will come.
Especially for those who have signed a sales tie-up agreement with VAIO Co., Ltd., one of Japan's major PC makers, and are considering purchasing the PC at the same time, in order to realize the "Jasmy Secure PC Concept". We will strive to provide a more convenient environment.
Details such as functions and specifications, as well as information on handling and purchasing, will be announced on the Jasmy website.
URL: https://www.jasmy.co.jp/
* Patents are currently pending for both the "Secure Knowledge Communicator (SKC)" and "Smart Guardian (SG)" technologies.
Comments from each company Hiroyuki
Matsumoto, President and CEO of Daiwabo Information System Co., Ltd. Daiwabo Information System sincerely welcomes Jasmy's proposal for the "Secure PC Concept". In Corona, there is a strong demand for working and attending school at home, and the problem of information security in remote work and remote learning has become a major issue in many companies and schools. We believe that we can expect many possibilities by providing security improvement services that integrate Jasmy's IoT technology and blockchain through our subscription portal "IKAZUCHI".
Going forward, we will pursue increased added value for both sales partners and users through collaboration with Jasmy. Kazuhiko
Tabuchi, Executive Officer of transcosmos inc. Transcosmos sincerely welcomes Jasmy's proposals for the "Secure PC Concept" and "Platinum Data Concept." With the strong demand for teleworking and other teleworking in Corona, strengthening information security is an urgent issue for our contact center as well, and client companies are constantly verifying new solutions to meet the needs of the market. It is required to go. Among them, we believe that Jasmy's new solution that integrates IoT and blockchain and the concept of handling personal data are one of the new customer experiences that we should aim for. Going forward, we will continue to strengthen our relationship with Jasmy and promote the creation of a contact center that can provide the next-generation customer experience. Tomohiro Yamamoto, President and CEO of VAIO Co., Ltd. Due to the corona disaster since last year, the need for remote work has rapidly increased, and ensuring information security at that time has become an issue for many companies. VAIO has long provided various solutions to these issues in order to realize a "new way of working." As Jasmy Co., Ltd. realizes the "Secure PC Concept" using its own blockchain technology, by installing it on VAIO PCs and promoting sales, there will be further variations in the "new way of working". We are very pleased and honored to join you.